Symphony Mobile Price The smartest phone in Bangladesh
Symphony Mobile Bangladesh
Symphony Mobile, the mobile handset giant in Bangladesh, is the new jewel in the notable Edison Group's crown. Symphony Mobile, with its exemplary features and styling, international product quality and aggressive (thereby customer-friendly) pricing, post-sales service and ever-expanding distribution network, is the unprecedented mobile phone handset solution for Bangladesh. The Symphony smart phone handsets are not just phones – they reflect your style, your social and professional position and your taste in beauty.
But why go with Symphony mobile phones?
Whether you work in Dhaka or in Chittagong, you are never far from your photos, videos, files, folders and apps, at your workstation and on the go. Got a meeting en route to the airport? Use Google Hangout on your smartphone to be at the important meeting. Want to trade stocks inside the aircraft? No problem. Use your finance apps to make the correct financial move. Do all that and much more. Don't worry about your smartphone's battery life. That's a promise from Symphony Mobile.
Symphony Smartphone stands out among all its competitors and predecessors because of its relationship with its customers. How many businesses do you know that consider customers their premium asset? That's Symphony  Smart Mobile for you. They do not just say it as a sales strategy. They mean it. Symphony mobile phone users have a wonderful experience with the customer care representatives, in case of a problem. Not only is the problem resolved, but more conveniences and benefits are provided as a thank you' gesture. Who can beat that?
Symphony Mobile, being one of the largest smartphone dealers in Bangladesh, has multiple models that reflect the latest and the finest in technology, form, function and feel. With a Symphony Smartphone, you will be more in control of the world around you. Information and communication will be your alias names, thanks to Symphony mobile phone.
Although Edison Group's new brand Helio is being sold with Symphony, it does not compare with what Symphony has to offer.
Following is a list of Symphony  smartphone handset models with their specifications. This is only to give you a peek into what Symphony Mobile has in store for consumers like you. You will notice that each and every Symphony mobile phone handset is built with all kinds of customers in mind. It is not just the pricing of the mobile phone, but also the features that make the Symphony mobile phones so attractive to Bangladeshi customers.
Top Symphony Smartphone list
Symphony ZVII ( 2 GB / 3 GB)

16MP + 5MP
3 GB
16 GB
3000mAh
Li-Polymer
Symphony ZVII Price in Bangladesh: 11,490 2GB / 12,490 Tk 3GB)
Symphony ZV Pro

13MP + 5MP
2 GB
16 GB
2300 mAh
Li-Polymer
Symphony ZV Pro Price in Bangladesh Tk 11,990.00
Symphony ZVI
13MP + 8MP
2 GB
16 GB
2050 mAh
Li-Polymer
symphony zvi price in Bangladesh Tk 11,890.00
Symphony P6 Pro
13MP + 5MP
3 GB
16 GB
2500 mAh
Li-ion
Symphony P6 Pro Price In Bangladesh :  Tk 10,490.00
Symphony H175

13MP + 5MP
2 GB
16 GB
4000 mAh
Li-Poly
Symphony H175 Price In Bangladesh Tk 9,990.00
Symphony H400

13MP + 5MP
2 GB
16 GB
3200mAh
Li-Polymer
Symphony H400 Price in Bangladesh Tk 9,990.00
Symphony H250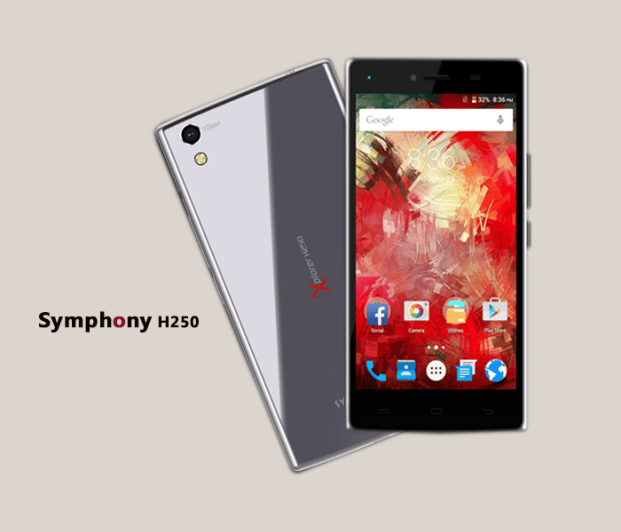 13MP + 5MP
2 GB
16 GB
2350 mAh
Li-Poly
Symphony H250 Price in Bangladesh Tk 9,190.00
Symphony P7

13MP + 8MP
2 GB
16 GB
2600 mAh
Li-ion
Symphony P7  Price in Bangladesh: 8,990 Tk
Symphony H300

13MP + 5MP
2 GB
16 GB
2500 mAh
Li-ion
Symphony H300 Price in Bangladesh Tk 8,590.00
Studio 50

8MP + 2MP
1 GB
8 GB
3000mAh
Li-Polymer
Studio 50 Price in Bangladesh Tk 8,390.00
Symphony Mobile Review
For avid photographers, some of the above mentioned Symphony Smartphone are just perfect. If you are on vacation at an exotic location, you do not need to carry expensive camera equipment with you. With one swinging motion, take out your Symphony mobile and capture nature's beauty or man made artifacts, that is, whatever catches your artistic eye.
If you love music and you rare in the habit of recording any interesting musical creation you encounter during your travel, your Symphony  Android handset is your best friend. Record long stretches of rare musical compositions and save them for eternity.
If you are far from your family and friends, Symphony Android Smartphones with their powerful batteries, are your best friend once again. Talk to your family or your special other as long as you want – don't worry, Symphony mobile will not interrupt your precious moments.
Symphony Smartphone users are some of the happiest mobile phone users in the world. The reason is simple. Symphony mobile phone supplies high quality at a reasonable price. With all the technology and elegant features and functions, Symphony mobile phones should ideally cost the earth. But they don't. Why not? The manufacturers of the Symphony mobile phones realize the importance of mobile phones in the world today. As a humanitarian business group, the Edison Group, has ushered in a revolution in mobile phone pricing in the industry. Symphony mobile phones are among the most inexpensive mobile phones in the world. Bangladesh has broken a record in delivering high quality mobile phones at reasonable prices for their customers.
Customers using Symphony Android mobile phones have remarked they would not be a part of the mobile phone consumer market, had it not been for Symphony Smartphone. Elegant look and beautiful finish, high-resolution cameras, long-lasting batteries, and availability of all apps for work and play – everything at an excellent price!
Many mobile phone companies promise excellent service at reasonable prices, but we know how many keep their word, don't we? Symphony Smartphone is in a different league. They do not deceive their customers. They believe good business depends on happy customers. So they focus on that. To make customers happy, Symphony mobile phone customer executives will happily walk the extra mile to solve the problem by fixing the phone or replacing it (if the need arises).
One of the most significant features of a Symphony android smartphone is their amazing battery backup. Trust me when I say it saves lives. Can you imagine what it would be like to be in an emergency and not be able to call for help just because your phone does not provide battery backup features? With Symphony mobile phone, you are safe. No matter what the price of your Symphony mobile phone, you will be able to call, if nothing else. The symphony mobile phone battery backup feature can also help fight crimes and assist investigations. If you are witness to injustice, you can record events for as long as you want and help the police to investigate.
As they say in Bangladesh, their language is the most lyrical in the world. Their music is heard and loved all over the world. For such a lyrical language and soulful music, there is no better phone than a Symphony mobile phone for communicating their thoughts and feelings. Express your true feelings with this beautiful gift of technology – Symphony mobile phone.
HUAWEI GR5 FULL SPECIFICATION AND PRICE IN BANGLADESH
SYMPHONY I50 PRICE IN BANGLADESH
OPPO F1S FULL SPECIFICATIONS REVIEWS AND PRICE IN BANGLADESH