Apple iPhone 8 (2017) News, Release Date , Specifications & Features And Price
Apple iPhone 8
If you recall, a few months ago, the iPhone 7 and iPhone 7 Plus were the best phones of 2017. The promises were that that iPhone would be the phone you could not live without. Now, talks are all about the new phone from Apple — the iPhone 8. With the iPhone 8, it will be the 10th -anniversary release of Apple's iPhone. It's amazing how evolved the iPhone has become since the first phone was placed on the market ten years ago in 2007. The iPhone 8 is talked about as being revolutionary and the best iPhone Apple has produced. All the iPhone fans are expecting big changes and are looking forward to the best smartphone yet with the upcoming arrival of the new iPhone 8. There are plenty of reasons to be excited about the next generation of the mobile device. It is rumored that it may even be named the iPhone X in honor of the anniversary. Manufacturers are gearing up to make 120 to 150 million new iPhones in the latter part of this year. The rumors are running rampant about the iPhone 8. For example, since Apple has a patent for a folding phone, there are rumors that the new phone will be able to fold similar to how you fold a book. It is not that likely that just because Apple can, that they will use this design. However, there are so many more rumors that have surfaced about the new phone. Sources report exciting new changes and features in the next generation of the iPhone. Below are the specs that reports are presenting about the new phone.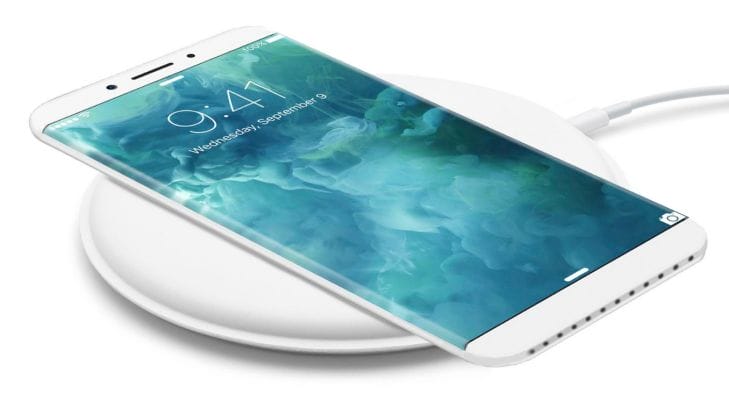 Apple iPhone 8 Release date?
Apple will more than likely follow their typical release schedule. There will be a September press release date, and then the phone will come out a week afterward. It's possible that the company will surprise consumers and introduce the model before the Fall, but there is undoubtedly anticipation building. Redefining with a glass on glass body. It is rumored that the new phone will steer away from the aluminum body. It's expected that there will be two glass panes — one in the front and one on the back. There will be less metal bezel around the glass which will make for a larger screen. Reports believe that this new build will bring down the cost of the phone dramatically. The former models of the iPhone have Gorilla glass, but it is predicted that the new phone will replace that glass with Sapphire glass which will provide more protection. It will be virtually unbreakable.
Apple iPhone 8 Full Specifications
Brand Name
Apple
Model
iPhone 8
Network Type
4G, 3G, 2G
SIM Type
Single
Camera
 Back 16 MP, Front 13 MP
Display Size And Type
5.0 INCH 1920 x 1080 Screen Resolution
Body Size
6.1 mm thickness
Processor
1.4GHz Qualcomm – Octa Core CPU
RAM
4GB
Internal Memory
32/64/128/256 GB
External Memory
N/A
Sensors
Fingerprint (front-mounted),Proximity, Compass, Barometer,

Accelerometer, Gyro

USB
V3.0
OTG
N/A
Connectivity
Wifi, Bluetooth, GPS, HotSpot, NFC
Battery
Li-Ion 3000 mAh Battery (Removable)
Colors

Jet Black

,

Black

,

Silver

,

Gold

,

Rose Gold
iPhone 8 Features And Price 
It's an eye-opener
It's been suggested that the iPhone 8 will have an iris scanner installed which allow you to be able to unlock  the phone with your eye. Apple already has facial recognition with iOS 10. Samsung was one of the first to bring this technology to the masses. It's predicted that the iPhone will have laser sensors and an infrared sensor located near the face fronting camera. With Apple's induction of this feature in the new generation iPhone, it will be a nice substitute for the prior Touch ID. Touch ID will possibly become virtual and integrated
into the screen. Multiple Models and stylus -Equipped
It's possible that in addition to the iPhone 8, there will be the iPhone Pro and iPhone Plus. One phone could be
5.5 inches with OLED screen. Another one will probably also be 5.5 inches but with an LCD screen and a third with 4.7 inches and an LCD screen with a single screen. The phone is rumored to be accompanied with a pen. The stylus will allow artists to be able to unleash their creativity and users will be able to better edit photos.
Assorted colors introduces a New one
The iPhone 5C had a colorful spectrum of color options. The iPhone 8 with mellow metallics will now possibly have a beautiful red added to the pallet of colors — black, rose gold, silver, and gold.
On the Edge
Rumors have surfaced that Apple will have an edge -to -edge display. The new phone may have a curved or OLED screen. However, this isn't a new concept in the market of smartphones because it is something that also the competition, like Samsung, has been doing with their screen over the span of their most recent models. To help create more screen space, Apple may completely get rid of the home button. This will give the phone a brand new design — different from previous models.
Wire -free charging and more power
It's been reported that Apple is looking into wireless charging. The rumor is that one of Apple's main manufacturers are making wireless charging phones that we can see this year. The all -glass casing will help aid in this wireless charging feature. Apple will also amp up the phone's RAM, and with an All processor, it will be more powerful. This will help the iPhone 8 become a leader and stand out in performance among the other smartphones on the market.
A phone that swims
The new phone could possibly be more water-resistant — especially if the phone is made to charge wirelessly. There would be no gateway for water or other liquid substances.
A better camera and Augmented Reality
It's possible that the new iPhone 8 will have a dual -lens camera. The sensors will be better at capturing light which will make for increased quality in pictures. The new phone is predicted to be adapted for augmented reality as well. This will allow for a 3-D overlay. There are other platforms doing this but unfortunately not that great. This will be a great feature for the new phone because you could point to an object and it will be recognized and can be manipulated.
What it will cost you
The iPhone 7 with 256 GB, can cost over $900 off the shelf. So, it is expected that with all the iconic features of the new iPhone 8, it will be priced over $1,000. This price seems plausible considering the phone will have a bigger size and the pricey OLED or the LCD screen.
Apple iPhone 8 Price in USA : Comming Soon
Apple iPhone 8 Price in Bangladesh : Comming Soon
Apple iPhone 8 Price in Singapore : Comming Soon
Apple iPhone 8 Price in INDIA : Comming Soon
Apple iPhone 8 Price in KSA : Comming Soon
Apple iPhone 8 Price in Dubai: Comming Soon
Apple iPhone 8 YouTube