GP Internet offer 2018 | Grameenphone 1.5GB Internet Only 29 TK Offer
Grameenphone 1.5GB Internet pack only 30 TK . GP New Internet offer 2018. Now,Grameenphone gets a great Internet pace only 29 TK. This offer is available for grameenphone subscribers.
Dial Now *121*5040# to avail the 1.5GB Offer at GP 29 tk. Internet validity is 7 Days. This offer can be used at any time with in 24 hours. Grameenphone new internwt offer 2018. Stay in the Grameenphone -bangladesh number one network.
Terms:
To activate the Internet offer Dial : *121*5040#
This Internet pack valid for 7days
GP will be able to take the 1.5 GB offer at a time of 29 taka.
All prepaid and postpaid customers of Grameenphone will be able to enjoy this offer.
To know the internet balance, dial * 121 * 1 * 2 #.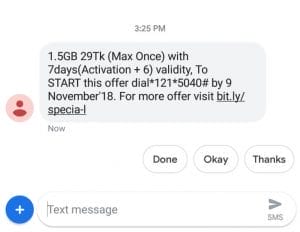 গ্রামীনফোনে ১.৫ জিবি ইন্টারনেট মাত্র ২৯ টাকা। গ্রামীনফোন ইন্টারনেট অফার 2018 । এখন গ্রামীনফোনে পাচ্ছেন ২৯ টাকায় দারুন ইন্টারনেট প্যাক। এই অফারটি গ্রামীনফোন গ্রাহকরা উপভোগ করতে পারবেন।
জিপি ২৯ টাকায় ১.৫ জিবি অফারটি নিতে ডায়াল করুন *121*5040#। ইন্টারনেট এর মেয়াদ ৭ দিন। এই অফারটি ২৪ ঘন্টার মধ্যে যে কোন সময় ব্যবহার করা যাবে। গ্রামীনফোনে 2019 ইন্টারনেট প্যাকটি একবার নিতে পারবেন। গ্রামীনফোনের বাংলাদেশের এক নম্বর নেটওয়ার্কের সাথে থাকুন।
শর্তাবলি:
অফারটি Active করতে ডায়াল করুন *121*5040#.
ইন্টারনেট প্যাকটির মেয়াদ 2 দিন।
জিপি ২৯ টাকায় ১.৫ জিবি অফারটি এক বার নিতে পারবেন।
গ্রামীফোনের সকল প্রিপেইড এবং পোস্টপেইড গ্রাহক এই অফারটি উপভোগ করতে পারবেন।
ইন্টারনেট ব্যালেন্স জানতে *121*1*2# ডায়াল করুন।